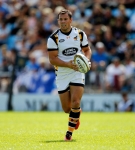 Wasps Academy Announce New Partnership with iGO OVC® Vision
Press Release
Date Thursday 1st September
Wasps Academy are pleased to announce a new partnership with iGO OVC® vision for the coming season.
iGO OVC® vision is a revolutionary new optical treatment to correct short-sightedness. A custom designed contact lens is worn only at night to gently reshape the eyes so that contact lenses and glasses are not needed during the day. A trial of the treatment by Wasps' first team fullback Rob Miller and Ian Taplin, Wasps' Academy Performance Manager, led to the new partnership.
iGO vision is especially relevant in sport but particularly beneficial in a contact sport like rugby as contact lenses, the only option in rugby, can move or fall out during a game. Most elite athletes avoid laser surgery during their active playing career because of the potential complications involved.
Children with poor eyesight; who at the moment either do not participate in rugby or have to wear special rugby goggles, can also benefit from iGO vision enabling them to enter into the sport on a level playing field with their peers.
iGO brings other benefits for children; the lenses can be worn from around the age of six, as numerous studies have proven that the treatment can slow down or halt the progression of myopia which is at its most aggressive in childhood.
Rob Miller, Wasps fullback, said: "From the first night of using iGO my vision was corrected and I could see just as well (if not better!) lens free than when I was wearing daily's. They are hassle free and the results are brilliant. The simplicity of the process means I have less things to worry about before and during training and games."
Wasps Academy programme has undergone a period of rapid expansion over the past three seasons. The Developing Player Programme, which is the initial entry point for players across Wasps' region, now has upwards of 350 players being coached on a regular basis by Academy staff. There is a full match and training programme with over twenty games for the U15, U16 and U18 squads, which includes fixtures with Welsh Academy clubs and the Premiership U18 league. Wasps' Academy regularly plays against other Academies from England, Wales and Ireland as well as playing in the Academy U18 league.
Each squad has recently completed a residential training camp at RAF Brize Norton, the first time Wasps Academy has been able to hold such an event, and the support of iGO OVC® for the next two years will allow for further development and a higher quality of provision for players within the Academy.
The financial backing will be used to invest in specialist coaching for Academy players but also to support Wasps' coach education programmes, helping to develop coaches not only for the Academy programme but also those working at the grassroots level of the game, thereby supporting Wasps' partner counties, clubs and schools.
Ian Taplin, Wasps' Academy Performance Manager - also an iGO Optical lense wearer - said: "We are delighted to have iGO OVC® on board as one of our Academy Partners. Their support will allow us to invest further in our development programme and offer even more experiences and opportunities for our young players to develop the skills and characteristics they need both on and off the field.
"Such support and investment from companies like iGO OVC® is hugely important to the Academy and we are looking forward to working with them over the coming seasons.
"iGO OVC® is an innovative product and is well-suited to our sport by providing the freedom and high quality vision without having to play in contact lenses. Having personally used this product for three years I can vouch for its quality and I am sure a number of our players who use corrective lenses will find it makes a significant change to their daily life and their rugby."
Jennifer Golden, Director at iGO Optical adds "We believe there is great synergy between Wasps Rugby Academy and iGO OVC® Vision and we look forward to building the relationship on the back of the success of our trials with Rob and Ian."
iGO OVC® vision is supplied on prescription at specialist opticians in key locations around the UK. A free consultation is available for those successfully completing the online suitability test go to www.igolenses.co.uk
-ends-
Media Contacts:
Melissa Platt Wasps Tel: 0789 512172 Email: melissa.platt@wasps.co.uk
Jennifer Golden iGO Optical Ltd Tel: 07976 439060 Email: jennifer@igolenses.com
Back to Press Releases