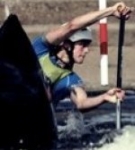 Olympic Canoe Slalom - Olympic Hopeful Adam Burgess has a Secret Weapon in his Vision for Gold
Adam Burgess 19, canoe slalom athlete and Olympic hopeful has a secret weapon in his tough bid to qualify for selection this April. Only one boat can go in the super competitive field, which amongst others includes David Florence who won a Silver medal at the Beijing Olympic Games.
Adam, from Stoke, has moved to London to be near the new Lee Valley White-Water Course and in line with GB Canoeing's 'Winning Margins" training philosophy, set out to make gains in all the peripheral areas in this very important year, most notably - to sort out his eyesight.
"With the water changing every tenth of a second, I need to be able to see clearly enough to react instantly" says Adam who is short-sighted. "I could not trust daily contact lenses out of fear of them falling out, so I have always raced without them. I looked into laser eye surgery, but was wary of causing myself further problems, then I came across Overnight Vision Correction."
Adam has joined the growing number of people, (250,000 worldwide), who now use Overnight Vision Correction to correct their short-sight. It involves wearing custom made contact lenses, specifically designed to sleep in. These act like jelly moulds to gently reshape the cornea, altering the angle that light enters the eye so it focuses correctly on the retina meaning that glasses and contact lenses are not required during the day.

Ian Raspin (Adam's Coach) says "During the dynamic and fast moving action of white water canoe slalom, performance, accuracy and precision are everything. When the athlete has the waves and stoppers continually breaking over their head it is imperative that the eyes are cleared quickly, ready for the next visual cue. Through iGO's work with Adam, he is now not only able to scout the course from the bank more efficiently but in the heat of battle has a much clearer impression of what is next to come.
Adam's vision is now perfect, in fact now he can see one line better than 20/20. "It is a dream come true to be able to compete and see perfectly without contact lenses." At 19, Adam hopefully has a long career ahead and whether or not he qualifies for London 2012 this April there is a summer of international events to plan for.

-Ends-
Media Contact
For further information, images or experts please contact:
Jennifer Golden
Tel: 07976 439060
Email: jennifer@igolenses.com
About iGO Overnight Vision Correction
• iGO OVC contact lenses patented contact lens available in prescription through accredited opticians.
• A European CE marked medical device also approved by the US Food and Drugs Administration
• Suitable for all ages - prescriptions up to -8.00D with astigmatism less than 1.50D.
• Initial design and fitting is from £200 plus from £40 per month for aftercare including all replacement lenses, cleaning solutions and eye checks.
• Interested consumers can visit www.igolenses.co.uk or contact 0844 7362579
• Adam Burgess is one of several elite athletes sponsored by iGO Optical Ltd
• Adam was treated at LK Leon Opticians, 29 New Cavendish Street, LONDON W1G 9TU
Olympic Selection dates
• Lee Valley White-Water Course, 13-15th April 2012
Back to Press Releases