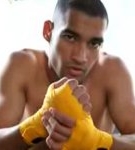 Professional Boxer Akaash Bhatia Opts for New Alternative to Eye Laser Surgery to Help Him in His Quest for the British Title
Harrow Boxer Opts for New Alternative to Eye Laser Surgery to Further his Vision of Winning the British Featherweight Title
Professional featherweight boxer Akaash Bhatia 26 from Harrow, who hopes to fight for the British title later this year, has struggled with eyesight problems for many years. He is very shortsighted and has to remove his contact lenses when he fights, as contact lenses are illegal in professional boxing. He was reluctantly about to go for a consultation for laser eye surgery when his mum read, by chance, about Overnight Vision Correction treatment provided by local optician Shelly Bansal.
"I have bad eyesight and it was difficult, especially in my sport (boxing), to go training; Akaash has trained with the likes of Amir Khan and James De Gale, and to do all the things I needed to do whilst wearing contact lenses. Walking into the ring after I have taken my contact lenses out and not being able to see clearly - walking past my own parents even, on the way to the ring, was a frequent occurrence. The only other option was laser vision surgery. I am only 26 years old, and I was reluctant to go down the corrective surgery route. Overnight Vision Correction was a brilliant opportunity for me to conquer all of my eyesight problems without corrective surgery".
The new overnight contact lenses are individually made using a unique computerised map of the eye surface and they are specially designed to sleep in. They gently flatten the cornea, altering the angle at which light enters the eye so it focuses correctly on the retina. When the lenses are removed, in the morning, full vision is maintained for over 24 hours. They are worn every night to maintain perfect vision and are suitable for those with prescriptions below -5.00.
"When my mum first told me out about i-GO I was a bit sceptical because I did not understand how the lenses worked and what was involved. It was difficult for me to get my head around the idea of only having to wear contact lenses at night. It seemed to good to be true"
The lenses can be worn at any age and i-GO overnight contact lenses are being used in a new study1 into halting short-sightedness in children. The initials results from the study have shown that the children wearing overnight lenses have seen no increase in their prescription. Recent reports say that shorts-sightedness in the western world has increased by 66% over the last 30 years, so overnight lenses could soon become the norm.
Shelly Bansal, specialist contact lens practitioner in Pinner who fitted Akaash with his lenses says "Akaash, whose prescription is -3.50, is right in the middle of the range for Overnight Vision Correction. Obviously, being able to see perfectly all the time, and not just when fighting is a great benefit for him. Many other sportsmen and women can benefit from these lenses, but it is just as relevant to anyone who is short-sighted, especially those who have comfort problems with their current lenses or are considering laser surgery".
"I have been using i-GO overnight lenses now for over 8 months and I can now spar and train and do all the things I need to do in the comfort of knowing that I can see properly. It makes such a difference in the ring especially on fight night. Now I am not wearing contact lenses but I can see 100% - it's absolutely brilliant for me. i-GO overnight vision correction will help me on the path to hopefully fighting for the British title."
.................ENDS...................
ABOUT i-GO OVERNIGHT VISION CORRECTION
• 75% of all short-sighted people are suitable - prescriptions up to -5.00D with astigmatism less than 1.5D.
• Initial design and fitting from £200 plus £40 per month available on prescription through accredited opticians.
• Over 100,000 people worldwide already wear the lenses
• I-GO lenses are a European CE marked medical device and approved by the US Food and Drugs administration
• Interested consumers can contact i-GO on (0)844-7362579 or visit www.igolenses.com
AVAILABLE FOR INTERVIEW
• Shelly Bansal FBDO, (Hons)CL, FBCLA
• Ahaask Bhatia - Watch Akaash Bhatia interview on YouTube
REFERENCES
1. SMART Study - (The Stabilization of Myopia through Accelerated Reshaping Technique)
A 5 year longitudinal study. Year two findings were presented at the Global Specialty Lens Symposium by Dr Barry Eiden, OD, FAAO in Las Vegas (January 2010)
Smart Group on Facebook
2. Increased Prevalence of Myopia in the United States Between 1971-1972 and 1999-2004
Susan Vitale PhD, MHS Epidemiologist at the National Eye Institute Archives of Ophthalmology December 2009)
3. Outdoor Activity Reduces the Prevalence of Myopia in Children
Kathryn A. Rose, PhD, at al (2009) Generation M2: Media in the Lives of 8- to 18-Year-Olds
4. The Kaiser Family Foundation (2010) (http://www.kff.org/entmedia/mh012010pkg.cfm)
For more information contact Jennifer Golden on 07976-439060 or 0844 736 2579 Jennifer@igolenses.com
Download the Success Story as PDF >>
Back to Press Releases