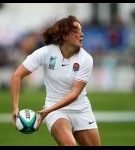 England Rugby Star is Fitted with Overnight Corrective Contact Lenses in Preparation for Women's World Cup
England squad member Jo McGilchrist has been fitted with special overnight corrective contact lenses as part of her preparation for this month's Women's Rugby World Cup which kicks of this weekend at Surrey Sports Park in Guildford.
Hosts England aim to deny New Zealand a fourth consecutive crown at the sixth Women's Rugby World Cup and no longer having to wear conventional contact lenses to play is just one of the secret weapons Jo has up her sleeve. She will be wearing specially designed overnight contact lenses which reshape the eyes while she sleeps and correct her shortsightedness so that she does not have to wear anything during matches.
Having natural vision during a game is a major benefit to players in contact sports like rugby and it saves team physios the job of having to carry spare lenses ready to replace lost or damaged lenses during play. Not wearing contact lenses during a game means fewer issues of lenses falling out at a critical point as happened to Martin Corry on two occasions during the 2007 Six Nations tournament when he was England captain requiring him to leave the field of play on each occasion.
Other problems faced by players wearing conventional contact lenses include getting dirt under the lenses during a match as experienced by Jay Demerit, the US and former Watford FC defender which required him to have emergency eye surgery putting him out of the game for several months. For a contact sport like rugby these types of risk are much greater thus enhancing the benefit of only wearing contact lenses while you sleep.
Up to 40% of people are shortsighted and the problem is getting worse due to spending too much time under indoor light focusing on near distance objects - TV, computers and mobile phones. The specially designed overnight lenses correct shortsightedness by gently flattening the cornea during sleep - the part that would be surgically removed during laser treatment - so that images focus properly on the back of the retina.
Top class sportsmen and women cannot afford to take risks with their eyesight and the beauty of overnight vision correction is that - unlike laser surgery - it is fully reversible. Once the lenses are removed each morning, the wearer has clear natural vision all day long. Jo says "it's great to have the freedom to play rugby without worrying about losing lenses and I am really looking forward to the World Cup for my first lens-free playing experience."
.........................ENDS..........................
For more information contact Jennifer Golden on 07976-439060 or 0844 736 2579 Jennifer@igolenses.com
ABOUT i-GO OVERNIGHT VISION CORRECTION
• Suitable for all ages including children - Short-sighted prescriptions up to -5.00D with astigmatism less than -1.50D.
• Initial design and fitting from £200 plus £40 per month available on prescription through the network of accredited i- GO opticians (see http://igolenses.com/map.html ).
• The lenses are a European CE marked medical device and approved by the US Food and Drugs administration
• Interested consumers can contact i-GO 0844-7362579 or visit http://www.igolenses.com
• Watch how i-GO works
WOMENS RUGBY WORLD CUP
• The WRWC match action kicks off on Friday August 20 at Guildford's Surrey Sports Park and the semi and finals staged at the Twickenham Stoop. England open their campaign against Ireland (6.30pm, August 20), followed by Kazakhstan (6.30pm, Tuesday August 24) and USA (6.30pm, Saturday August 28), with the semi finals taking place on Wednesday September 1 and finals on Sunday September 5. All England's matches will also be shown live on Sky Sports.
• For WRWC 2010 tickets visit the Ticketmaster website or call 0844 844 2010. Rugby fans who buy tickets for the WRWC 2010 will also be put on a priority ticketing information list for the 2015 Rugby World Cup in England. For a full schedule of fixtures and to follow England in the WRWC visit www.rfu.com/wrwc
Download the Success Story as PDF >>
Back to Press Releases