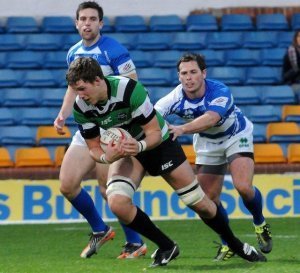 by Richard Beck Yorkshire Carnegie
There were some close games last weekend in the Six Nations. Wales beat France 19-10 in a tough encounter on Friday night. The game wasn't a great spectacle but Gareth Davies, the Welsh scrum-half, was a real standout player. He really is electric and his acceleration from the back of the scrum is something to behold. As a flanker myself, I know how difficult it is to play against scrum-halves that are quick. You have to go from a scrummaging position to an all out sprint just to try and catch up. Davies' decision making after making his breaks wasn't always the best but I am sure this will improve as he gets more experience. We also got to see George North in full flight for his try. He did get a little lucky but he was that far ahead of the French defence, he still had time to score. France did score a try late on but by that time the game was all over.
The game of the weekend in my opinion was the Italy Scotland game. Scotland have some great attacking players like Finn Russell and Stuart Hogg. Russell is a constant threat to the defensive line and made an important break for one of Scotland's tries. I thought throughout the game the offloading from both teams was superb. The ability to keep moving the point of contact is key as it means the opposition can never set a solid defensive line. The southern hemisphere teams are miles ahead of us in this regard. All of their players, whether forwards or backs, are capable of passing and offloading which makes a real difference in attack. I hope Scotland continue to play the same style of rugby as they have been doing as it is a real pleasure to watch.
The final game of the weekend saw England beat Ireland. Ireland weren't at their best during the game as they tried to move the ball from wing to wing. This can be effective but you need a few players to be direct down the centre of the pitch in order to stop the defenders drifting across. Reflecting on England's performance, Billy Vunipola was an absolute beast. He carried the ball so many times and nearly every time made half a break. England rely on Vunipola to get across the game line and generate quick balls. This quick ball can then be exploited by the English backline. Last weeks predictions went really well and I managed to predict all three winners. I will be back next week to make further predictions but I can't promise they will be as good.