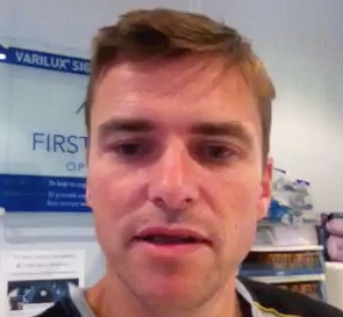 by Ian Taplin Wasps RFC
This weekend sees the fourth round of the 2016 Six Nations and the key fixture pits the Welsh against the English in what is essentially the deciding fixture of this years tournament. My predictions for the last round were surprisingly accurate so here's to this week and hoping that I am able to see the results as clearly as my iGO Lenses bring everyday into focus.
So let's start with the big game at Twickenham which promises to be a fantastic occasion as a resurgent England under Eddie Jones takes on Warren Gatland's Wales who have steadily improved as the tournament has progressed. Both sides have been excellent in terms of their defensive share and structure which is to be expected under the excellent tutelage of Edwards and Gustard respectively. Wales have built there philosophy on this sound foundation for a number of years and England have brought much of the Saracens Woolpack mentality to the field which has add a hard edge to their defensive work. Wales might be a bit further down the line in this respect and give away fewer penalties which may well be critical in a game when points will be hard to come by.
However I feel England are developing an extra attacking dimension and with the home field advantage feel they will be able to create enough opportunities and will grab a couple of tries to et home by 8 points.
The champions from the two previous seasons Ireland find themselves in the unenviable position of going into the fourth round without a victory to their name. Fortunately they are up against Italy in Dublin who have lost their opening three matches. The Italians have been slightly porous defence which should allow the Irish to score three or four tries which will see them rack up 30 points which will be too much for the battling Parise and his team.
The final tie of the round sees the French travel to Murrayfield to take on the Scots who will be buoys they there victory in Rome last time out. The French have been consistent in this years championship which is unusual for them, sadly however they have been consistently poor and despite victory over Italy and Ireland they have shown nothing of the traditional flair and guile that we come to associate with them. With that in mind I should be thinking that this will be the weekend when they turn it round and produce a free flowing display that leaves the Scots cursing their luck to stumble across the French when they actually decide to turn up. However I have seen nothing to suggest that this will be the case and think the Scots will get home by 7 points.
If the above works out England will be 6 Nations Champions with a game to spare and will head to Paris in the foal round in search of a first Grand Slam since 2003.