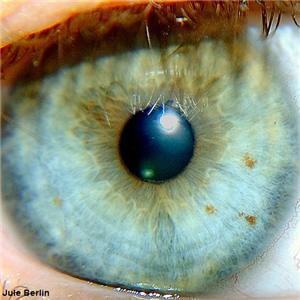 A good Samaritan who was blinded in one eye after a chemical attack has had the sight in his damaged eye restored after 15 years.
Russell Turnbull underwent stem cell surgery where doctors took a small sample of cells from his good eye and grew them in a laboratory before transplanting into the damaged eye.
Mr Turnbull was attacked with ammonia after intervening in a fight on a bus in Newcastle which resulted in him being blinded in one eye.
The 38-year-old told the Financial Times that the operation had improved the sight in his right eye from ten per cent to 90 per cent, and removed the pain and sensitivity he had constantly been experiencing in it.
He added: "This has transformed my life."
The treatment has been developed at the North East England Stem Cell Institute and has already been used successfully with eight people who had lost their vision in one eye.
Thousands of sufferers of a disease called Limbal Stem Cell Deficiency (LSCD) stand to gain from the pioneering surgery.
Sajjad Ahmad who developed the method said: "It would save a lot of money as well as preventing suffering, because patients with LSCD currently have to see an eye specialist every six weeks or so."
For people with less severe eye afflictions,
night contact lenses
are a way that people with impaired vision can regain their
natural vision
without having to go under the knife.
Worn at night, the orthkeratology
corrective contact lenses
gently reshape the cornea of people who suffer from myopia (short-sightedness) allowing them to see clearly when they are taken out.
Orthok
night time contact lenses do not need to be worn during the day and thus eliminate the need to suffer from the dry eyes that conventional contact lenses can cause or risky eye laser surgery.
Eye Health: Find out if overnight contact lenses will suit you.
By Nick Howard