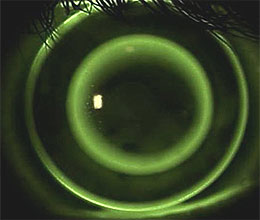 By Jacqui Mayhew
Ortho-k lenses which correct short-sightedness but are only worn while sleeping could be the next item on Nick Matthew's shopping list after England's number one squash player picked up gold and silver medals at the Commonwealth Games. In a pulsating contest with Jamie Wilstrop in the final of the individual competition, Nick was forced to leave the court at a crucial point in the match when his daytime contact lens became dislodged. Neither the match referee nor his opponent were quite sure what was going as Matthew left the court but it was clear that he could not continue without inserting a new contact lens.
Whilst Matthew ended the match victorious and picked up his second Commonwealth Games individual title after winning in Delhi four years ago, the contact lens problem could have cost him the match. Nevertheless, with a doubles silver medal won subsequently in partnership with Adrian Grant, Matthew will reflect on a very successful tournament and shows no sign of wanting to step down from his position as one of the world's leading players. But this could be the perfect time for him to find out that ortho-k lenses offer an effective alternative to laser surgery in providing perfect natural daytime vision.
Based on the long-established optical science of orthokeratology, overnight ortho-k lenses - which are custom-designed for each wearer - work by gently flattening the surface of the eye under the mild pressure of closed eyelids during sleep. This very slight change ensures that after the lenses are removed each morning light entering the eye focuses directly on the retina rather than in front of it which is when distant objects appear blurred. Most importantly, the change lasts for over 24 hours so the wearer enjoys perfect natural vision all day long until the lenses are reinserted at night. It is the perfect solution for all sports enthusiasts - not just gold medal winning squash players!