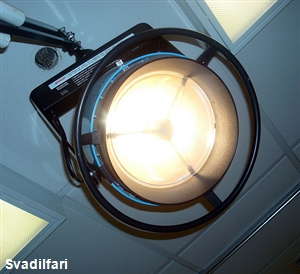 Writing for St Louis Today, columnist Aisha Sultan has told of the ordeal she went through in having eye laser surgery.
The problem began when the contact lenses she had been wearing to correct her eyesight started to cause discomfort.
She switched to glasses, but a power cut one evening left her unable to see in the darkness and she decided to consider eye laser surgery.
But the experience was not as straightforward and worry-free as she may have liked.
"They put drops in my eyes to numb them before the surgery, but no drugs are given to calm the nerves. I lay there, stone-cold sober, barely breathing through my anxiety," she said.
A metal device "that looked like a supersized eyelash curler" was used to hold her eyelids open while the surgeon cut a flap in her cornea before she smelt the smell of burning.
Describing how she felt afterwards, Ms Sultan said: "I felt nauseous and groggy and searing pain in both eyes. It lasted for the first two hours post-surgery."
The surgery was successful, but in order to tackle the
symptoms of dry eye
that can occur, she envisages using eye drops for a few months.
Orthokeratology
contact lenses are the perfect alternative for those wishing to avoid the anxiety and risks associated with eye laser surgery.
The
orthok
corrective contact lenses
are worn whilst asleep at night and are specially-designed to gently reshape the eye. They can be taken out during the day, giving wearers hassle-free corrected vision.
Orthok
contact lenses eliminate the need for glasses or traditional contact lenses, as well as eye laser surgery – the last resort for many.
Surgeon Julian Stevens recently told the Times that "to some extent, it was burn and learn" in the early years of the surgery.
Eye Laser Surgery: How do
i-GO contact lenses
compare to eye laser surgery?
By Nick Howard