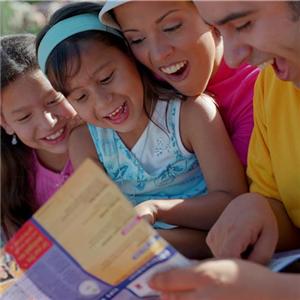 Contact lenses for children
which are based on the long-established optical science of orthokeratology - or
ortho-k
for short - have been shown by research to not only correct short-sightedness (known as myopia) but also to prevent it getting worse. Given that early onset myopia in young children can worsen by as much as half a diopter every year - equivalent to being unable to read a line on the optician's wallchart - this means that by adulthood a child can suffer from a high level of short-sightedness. In later life, high myopia can result in more serious eye health issues such as retinal detachment as well as potentially limiting what people can do in terms of sports and other activities.
Given this negative outlook, it would be assumed that parents would take their children to the optician regularly to have their eyes checked so that any diagnosed vision defect could be treated before it worsened. However, whilst the statistics show that 70% of children attend the dentist at least annually, only around 25% of children see their optician every year. Usually, if parents have no history of vision problems in childhood and their child does not complain about having a problem, then it does not occur to them to arrange a check-up. Since early onset myopia can start from a very early age, it could be well-established by the time the child is finally assessed by an optician. This is when ortho-k contact lenses for children should be considered as the preferred treatment option.
Too often, once a child is diagnosed with myopia the proposed treatment is to provide glasses which can often set a young child apart from his or her peers by implying physical inferiority as well as inhibiting participation in sports and other activities. By contrast, contact lenses - which can be worn even by very young children from 5 years old upwards - can enable a child to fit in with his or her peer group and be an active sports participant. With ortho-k contact lenses for children , the additional benefits are that the lenses are only worn overnight whilst sleeping so that the child is lens-free during the day. More importantly, these special lenses have been shown in research studies to stop myopia worsening.