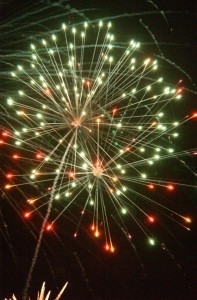 At this time of year, it is customary to head out and see a fireworks display.
However, it is important to make sure that eyes are well protected from the likes of sparklers and bonfires.
Dr Kevin Tempany, a consultant ophthalmologist at the Vista Eye Clinic in Ireland, told IrishHealth.com that eye injuries are the second most common injury from fireworks in the country.
"If an eye injury occurs, I recommend that you seek immediate medical attention. Do not rub the eye, cover the area with a protective foam cup and bring the patient immediately to the nearest eye casualty," he said.
Ortho k lens
wearers will be able to enjoy the upcoming fireworks displays free of the restraints of glasses and contact lenses.
Worn at night, they gently reshape the cornea while sleeping and once awake they can be removed, leaving the wearer with perfect
natural vision
.
Orthokeratology
lens wearers heading out to displays will likely be able to see clearly right on into the night and need only worry about putting the lenses in again once they have returned home from the festivities.
By Julia Paris