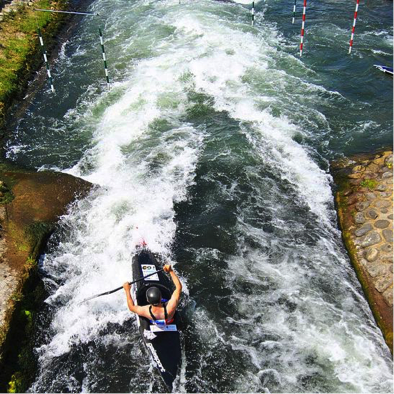 Having decided to spend the week of World Cup 2 (Krakow) training back home in Lee Valley instead, I was super eager to get myself back on the international startline once more at World Cup 3, Liptovsky Mikulas- Slovakia.

After a very solid week of training and some time for contemplation 2000m up in the Tatra mountains I was feeling very ready to put together a good performance. Qualification went fairly solid for me, progressing through to the semi-final at the 1st attempt in 17th place.

Unfortunately I managed to pick up a rather bizarre injury to my back by picking up my (empty!) kitbag... My back went into spasm and I was unable to move at all without being in a lot of pain. My mobility was somewhat akin to Radamel Falcao in the penalty box...

Checking in with the doctor on returning home has made it a bit less of a worry, she didn't think there was anything too sinister underlying which may have caused it and I should be back in full training very soon. Just unlucky timing to have it happen at a World Cup!

With me not racing it did open up an opportunity for me to step into the commentary box kindly offered by Matt Leighton of ICF TV. I really enjoyed commentating the Mens K1, Mens C1, and Womens C1 finals. You can rewatch it all on youtube here: https://www.youtube.com/watch?v=-WQ_aN1YzM0 Joined in the commentary box with Matt Leighton, Fiona Pennie (GB teammate) and Tracy Hines (USA competitor)

I've got close to a month back on home soil now to concentrate on my training before racing World Cup 4&5. I'll be studying the race reports compiled by our awesome Performance Analysis team to see where the best possible gains are for me. You can bet I'm going to be gunning for a good performance at the back end of the season having had this disappointment last week! Onwards and upwards!