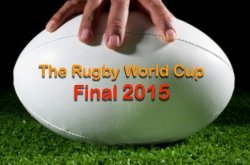 The World Cup has reached it's Grand Finale and there would be few who would argue that the two best teams have made it to the showpiece occasion. Last weeks semi-finals saw the AllBacks overcome the Springboks in a typically bruising encounter with the quality and experience of Carter et al proving too much for a committed South African team. Australia were able to hold of everyones second team as the early points the Pumas gave up provided to be decisive in the final reckoning. The impact of Giteau and Drew Mitchell has been crucial to the Wallabies form in this tournament and coach Michael Cheika's ability to integrate these players into the squad has called many to questions England selection policy which has seen those playing in FranceSat deemed unavailable for the national team.
England's failure to progress from the group stages though initially disappointing will have a significant long term impact on the wider game. Clubs have lost millions in revenue as the homes teams early exit has reduced income at grassroots clubs who will have planned events around the progress of England through the tournament. More importantly the legacy of the tournament to inspire young people to take up the game will be seriously dampened as success ultimately increases participation as was seen by the sharp uptake post the 2003 victory.
Saturdays final will see Richie McCaw arguably the greatest ever player represent his country for the final time but he will have his hands full with Australia's Pocock and Hooper in the back row and if they can contain McCaw then Australia will have a foothold from which to work. Despite all the free flowing rugby that both sides have played finals have historically been tight affairs and it may well be that the set piece will be the critical area in this game. Australia will feel that they have the upperhand in this area and I expect them to target New Zealand replacement prop Joe Moody and if they can gain control of this area of the game the reliable Bernard Foley may well be able to get the scoreboard moving.
I am going for an Australia victory despite this New Zealand team being potentially the best the game has ever seen. I feel they will play a tighter game with scrum dominance and the work of the Australian back row to be critical at the breakdown with Foley putting the point son the board. The Australians defence has been virtually impregnable and this coupled with the way that they seem to find a way to win will produce the upset victory.