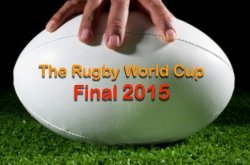 by Richard Beck of Leeds Carnegie RFU
This weekend sees New Zealand take on Australia in the Rugby World Cup final. In my opinion, these are the two best teams in the competition and deserve their place in the final. Saturday's game will be a really interesting encounter and there are so many key individual battles across the pitch. A lot of the media have been focussing on the battle of the back-rows. On one side you have, my player of the tournament, David Pocock and on the other, you have one of the greatest number 7's that's ever lived, Richie McCaw. This will be an intriguing battle and the ruck area will be heavily contested. Whoever wins this battle will more than likely come out on the winning side.
Matt Giteau versus Ma'a Nonu is another battle that I am particularly excited to watch. The two players play the game in a completely different way but are both hugely successful in what they do. In Giteau, Australia have another ball player who can easily step in as first receiver and control the game. Whereas for New Zealand, Nonu is a man who can get them over the gain line and secure them quick ball. Nonu is under-rated as a ball player and it is definitely a side to his game that has improved massively.
If I was a betting man I would put my pound on New Zealand to win, but I don't think it will be as comfortable as some are suggesting. Australia definitely have some fire power to hurt the All Black's and I wouldn't be surprised if it went either way. Enjoy the game!