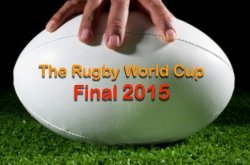 By Jo McGilchrist Ex England and Wasps WRFU
Well, we are almost there, the close is in sight and the wait for another four years will ensue. For the rugby fans amongst us normality will prevail, 6 nations is not too far away and the search to regain pride will begin.All home nations have clearly fallen at the Southern Hemisphere hurdle.
So what have we learnt from this World Cup? The Argentinians made the right choice by joining the Rugby Championship, Australia have finally learnt to scrummage (we're all in real trouble now!) and referees have learnt how to card players with the number 7 on their backs. Whoever thought up the lions tour has the whole of the UK thanking them given it looks like our only chance of beating the Southern Hemisphere teams is by teaming up together.
So who do we tip to win tonight and tomorrow? Normally the third place playoff lacks a bit of urgency but I feel with Argentina wanting to prove they really are here for the long run and the South Africans having had a bit of a mixed tournament the Pumas may reign supreme.
As for tomorrow, the All Blacks have proved consistently they are the best team in the world. I'm surprised the bookies still take bets on them, whether it's the World Cup, Rugby Championship or Autumn Internationals they are always the favourites to win and rarely do they disappoint. But the World Cup final is not about consistency, the winner takes all and if there is a fault to be found in the black armour it normally rears its ugly head at this time in the 4 year cycle.
The other area of interest will be the scrum. It will be interesting to see how good the Aussi scrum really is and may be the differentiating factor between the two sides. The scrum is a scoring machine. If you're close to the try line then it's a five or a seven pointer. If you're within 50m of the try line then it's a three pointer but perhaps the most points scored is being able to demoralise the other eight men in an activity that is sooner or later inevitable.
So my prediction is a victorious Aussi front 8 and a victorious Kiwi back 7. Who will prevail overall? Well, it is being played in the northern hemisphere after all...