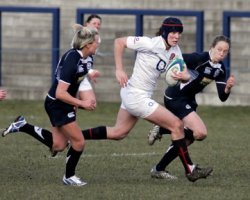 By Jo McGilchrist Ex England and Wasps RFU
20 squads, 13 venues, 7 matches to glory and every player dreaming of lifting the Webb Ellis World cup. It's that time of the four year cycle where you get goose bumps at the thought of the world's best rugby players coming together to showcase their skills and finally answering the question of who is the greatest team on earth?

The first week went down a storm with the cherry blossoms possibly having the biggest upset since the rugby world cup started back in 1987. As a result of their bravery they are now everyone's adopted rugby nation, yes rugby union is a truly great sport. There are no other team sports where you can excel in a world arena that welcomes all body types: fast, slow, small (or not so small) there's still a niche for you. You can go in the underdog and come out the hero.

Wales were clearly the underdogs going in to Saturday's match against England. They were minus the home crowd and have had injury worries, but in true rugby nature they came out fighting, and what a fight it was. There was no panic from Wales not leading at half time, as the last time they led at this point in the match at Twickenham was in 1980. From analysis via the stats, England should have won. They led on six of the eight key stats. So how did the Welsh win with a much depleted back line? Even if England had chosen to go for the 3 points in the closing minutes and even if they had got them, it still would not have meant a win for the Roses.

The men in red showed so much heart. Something that is unmeasurable by GPS and sports science but is key. They knew the chips were down and they knew they would have to play to the best of their abilities as the underdogs, just what is called for this Saturday when England take on Australia. Our chips are down, we have to win to stand a chance of getting out of the pool and the stats are not so complimentary when reviewing our previous meetings.

So a prediction for the match?! Surely it will be too close to call, so maybe a draw is called for. A draw will not see England out of the pool stages, though, so they will either win or lose. I predict a win. Why you may ask? The answer is simply we have to. The chips are down, we will come out fighting and it is evident the knock-out stage of the tournament has come a little earlier for us. It will raise our game and if we really are the best team in the world we will have to show it on Saturday.