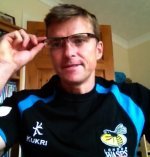 by Ian Taplin, Academy Performance Manager, Wasps RFC
The 2015 Rugby World Cup continues to deliver on all fronts, exciting rugby with an attacking ethos prevailing over a defence first approach, near capacity crowds including World Record attendances at Wembley with new supporters being attracted to the sport.
There have been giant killings with Japan beating South Africa, a narrowing of the gap between traditional rugby powerhouses as Georgia and Argentina are now a genuine threat on their day. The inclusive attitude of rugby supporters and their appreciation of the spirit of the game has created a welcoming festival atmosphere with supporters mixing and celebrating rugby and not just the outcome as it equates to their nation. Match-day staff at the numerous football stadia being used to host these matches must be at first a bit bemused to see South Africans celebrating the performance of the Japanese in defeating their team.
The television coverage has been very well done with ITV recruiting in the new age of rugby pundits from rival stations to ensure that the tournament is presented with wit and intelligence. The marmite version of World in Union by Palomo Faith might have been the biggest cloud hanging over the tournament, apart from one small matter. England could very well exit its own World Cup at the halfway point of the group stages.
The success of the home nation in any major sporting event is seen as critical to the continued atmosphere and national interest in the event. As such this Saturday evening sees a seminal moment of the tournament as England have to win against Australia in order to preserve the host nations competitive involvement in the tournament. So it should be another stellar Saturday night in SW1 but the most important thing from the host perspective is to secure the win.
The Australians have overcome a tumultuous period themselves with disharmony and tabloid scandals combined with a poor series of results leaving them in a less than perfect place eighteen months out from the global competition. Michael Cheika has though established a set up values and behaviours which has removed these cultural frailties and has them playing with rugby and emotional intelligence. The most worrying factors for England is that Australia are always difficult to put away, have an uncanny knack of finding a way to win and most significantly nothing will delight them more than helping the Poms to exit the tournament.
So come Sunday morning the country may well be celebrating the revival of the English team or conducting a post mortem into the demise the home nation, either way the margins will be fine and in such a tense head to head he who blinks first usually loses.