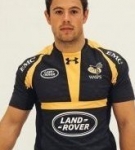 Rob Miller Wasps RFC Fullback
"During the previous 6 years of wearing daily contact lenses, it was inevitable that during training or a game, one would fall out and I would have to stop and replace it! This was becoming a frustration for me and I had to make sure that the physios were always carrying spares.
I looked into some other methods of vision correction but when chatting with a friend and colleague at Wasps RFC (Ian Taplin), he made me aware of iGO lenses . In all honesty, when he explained the concept I was relatively sceptical, the idea of putting lenses in to sleep in and then waking up with corrected vision sounded too good to be true - but I was willing to give it a try.
From the first night of wearing them my vision was corrected and I could see just as well (if not better!) lens free than when I was wearing dailys. I'm happy I have now found a method that's hassle free and has brilliant results. The simplicity of the process means I have less things to worry about before and during training and games.
I would highly recommend iGO to both active people or people who are looking for an alternative vision correction option without having to wear glasses."
Rob Miller Fullback, Wasps RFC
Download the Success Story as PDF >>
Back to Success Stories
Find out if you are suitable