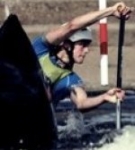 Adam Burgess GBR - Olympic Hopeful Canoe Slalom London 2012
As a canoe slalom paddler, my game is to negotiate my way through a series of 'gates' suspended over a white water river in the quickest time possible without incurring any penalties. I need to be quick to react to any changes in the water in order to stay on track, and to have complete awareness and control of my body when passing through a gate so as not to incur a penalty. It is therefore vital that I can see crystal clear so I do respond fast enough when I have to and so I know exactly where the poles of the gates are in relation to myself.
Before wearing i-GO lenses, I used to wear daily contact lenses. But these regularly fell out or slipped if I took a splash of water from a wave to the face... A lens slipping during my warm-up for the final of the British Open causing a bright glare in the upper left corner of my vision throughout my run was the final straw for me. I couldn't trust wearing contact lenses to race in after that, putting me at an instant disadvantage because of my short-sightedness.
That was the final race of the 2011 season, with 6 months until GB selection 2012 for the U23/SNR/OLYMPIC teams, in line with GB Canoeing's philosophy I started to try to make extra gains in all the extra areas that normally wouldn't be considered as important. One of these was fixing my eyesight problem. I started by looking into laser eye surgery, but with the chances of complications I chose not too. Especially only aged 19 with a whole career ahead of me, I just couldn't take the risk of laser eye.
Not only on the water have GO lenses helped me though. At competition we do not get to practice the gate sequence that is set so all preparation must be done from what you can see from the bank. Now I can make a much clearer and more detailed race plan than before...iGO lenses improving my performance before I even start my warm up!
I would definitely never go back to wearing contact lenses in the day, the idea of it just seems obsolete now, not only for my sport, but for everything else as well.
Find out if you are suitable for iGO lenses
Read Adam's Blog - adamburgessigocanoeing
Back to Success Stories
Find out if you are suitable