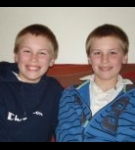 Contact lenses for children help twins who can't wear glasses for sport
Sporty twins Dan and Alex needed something to be done about their eyesight if they were to continue to enjoy sports at their clubs and at school. The children could not wear their glasses so contact lenses were needed. At 12 and almost teenagers it was also important to their confidence not to
Nicky says "I held off getting them to try contact lenses because I was worried that they might have problems getting them in and out but then I saw an article in the Daily Mail about i-GO OVC and was particularly interested to learn that it could stop their eyesight getting worse. I spoke to my own optician first who was sceptical but decided to book an appointment at my nearest i-GO accredited optician, Henning and Henning in Weybridge, to find out more."
Short-sightedness is genetically inherited. The twin's mum Nicky, whose prescription is -10.0D, started wearing glasses at 7 but their father at -2.0D did not start wearing his glasses until his late 20's. The twins always had their eyes tested regularly along with their Mum and it became apparent when Alex was 9 that he needed his eyesight corrected while for Dan it was 18 months later.
"Given that Alex had the highest prescription we decided he should try i-GO OVC first. We thought that if he didn't like it then we would not have lost much but after just one night's wear Alex's prescription was down from -4.75D to -1.75D. I could not believe it - you can't describe to it anyone else. It just got better and better and his confidence in sport improved."
"The optician, Lucy Henning, and her staff were more than helpful. It was a bit tricky for the boys to get the lenses in and out at first but the staff were extremely patient and encouraging."
Alex says "I do not mind wearing the contact lenses at night but my friends think it's weird. I play rugby and there is no problem tackling someone or being tackled around the head. If I had normal contacts in they would fall out. I was keen to give them a try as I didn't want to wear glasses anymore and I liked the idea of having contact lenses that I did not have to worry about during the day. With my glasses I always had to take them off and worry about my glasses case falling out of my pocket when playing football at break at school and then remember to put them on again for class."
Alex's twin Daniel whose prescription is -2.0D wasn't as keen to try i-GO. "I am very impatient and it seemed like a lot of effort. I changed my mind after seeing how good the results were on my brother and how it affected him. I thought that if he could do it then so could I. After changing my mind I am glad I did. I have definitely seen the result on the football pitch where I am the goalie. In lessons I also notice the difference in some classes where I have to sit at the back. It has changed the way I see things since I used to peer and squint at things. I would not want to change back to my glasses - I hated them."
Back to Success Stories
Find out if you are suitable