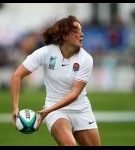 England Rugby Women's World Cup 2014 Winner uses iGO to helo her game
Playing as a forward in a contact sport I frequently lost or dislodged my contact lenses during matches and would have to leave the pitch to put in replacements. I would also have difficulty trying to put them back in when they fell out on the pitch using muddy hands!

Now I am able to train and play without any worries about losing lenses and I wore i-GO's special overnight vision correction lenses at night throughout the recent World Cup tournament in August where we lost to New Zealand in the Final.
I am not able to have corrective eye surgery so I have been used to wearing glasses and conventional daytime lenses. By the end of the day, I would find wearing ordinary contact lenses aggravated my eyes and I would often be peeling them off - not helpful when most of my rugby training is done in the evening!
Not having to wear contact lenses during the day is the main attraction of i-GO overnight vision correction for me so I no longer suffer from any of the uncomfortable side effects.
The custom-designed i-GO corrective contact lenses are easy to put in before I go to bed and just as easy to take out the following morning. Since you sleep with them in, you do not notice them.
Initially, I was experiencing a problem at nighttime from flare and halos around lights but my i-GO optician explained that this was due to me having large pupils which meant the treatment took longer to be fully effective. As he predicted, this problem was resolved over time through continuing wear of the i-GO corrective contact lenses.
i-GO overnight contact lenses provide me with better vision when I remove them in the morning than glasses or ordinary contact lenses previously have. I am now able to play a full rugby match knowing that my vision is 100% and not worrying that a lens might come out during a tackle or scrum.
Jo was fitted with her i-GO overnight contact lenses by Kieran Minshull at L K Leon in London's West End
Back to Success Stories
Find out if you are suitable