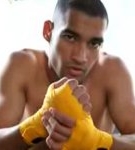 Contact lenses for boxing help professional boxer Akaash Bhatia see perfectly in the ring
I am a featherweight pro boxer but I have bad eyesight my prescription is -3.50. It was difficult especially in my sport to go training every day - I have trained with the likes of Amir Khan and James De Gale who won olympic gold; and do all the things I needed to do wearing contact lenses.
Contact lenses are illegal in boxing and walking into the ring after I have taken my contact lenses out and not being able to see anybody - walking past my own parents even on the way to the ring, was a frequent occurrence. The only other option was laser vision surgery. I am only 26 and was reluctant to go down the corrective surgery route. i-GO was a brilliant opportunity for me to conquer all off my eyesight problems without going down the corrective surgery.
My mum told me out about i-GO and I was a bit sceptical at first because I did not understand how they worked and what was involved. It seemed too good to be true to just wear contact lenses at night and it was difficult to get my head around. My Dad didn't believe it but I was quite excited though.
I have been using i-GO overnight lenses now for over 8 months and I can now spar and train and do all the things I need to do in the comfort of knowing that I can see properly. It makes such a difference in the ring especially on fight night. Now I am not wearing contact lenses but I can see 100% - its absolutely brilliant for me. i-GO overnight vision correction will help me on the path to hopefully be fighting for the British title later this year.
Akkash was fiited with i-GO OVC by First Contact Opticians in Middlesex
Back to Success Stories
Find out if you are suitable