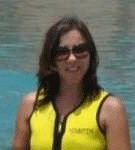 Contact lenses for dry eyes help Evening Standard Travel Journalist Jo Fernadez especially when travelling on aeroplanes
I saw an article in a magazine about i-GO contact lenses. When I first heard about them I thought what an amazing idea. I had never heard of such a thing but I was tired of fiddling around with lenses every morning and having problems if my eyes were particularly tired or dry.
I wanted to try them because I travel for a living and flying, in particular, can make your eyes very dry. Also if you want to sleep you have to remember to take your lenses out or else feel uncomfortable when you inevitably fall asleep in them. I went along to an i-GO accredited optician - Specs of Kensington - near where I work.
Prior to starting the i-GO treatment my prescription was -4.50D in my left eye and -4.75D in my right eye.
The first night of wearing them was interesting. It did feel slightly strange to wear hard contact lenses as I had only ever worn soft lenses until then. I put them in, closed my eyes and went straight to bed! In the morning I could already see a difference and this impressed me. The process of seeing your sight improve daily is impressive.
Optician Elaine Styles says "Jo's prescription is at the high end for overnight vision correction but after just one night wearing the lenses her left eye had improved to -1.50D and her right one was -2.00D.
The main advantages for me have been simply that in the morning I remove my i- GO lenses and then forget about the fact I even have short sight until the end of the day when I put them in before going to bed. When I swim or play with my daughter or travel I now have complete freedom from any troubles with lenses. It has been incredibly liberating.
Specs of Kensington - a friendly, highly professional, all-female outlet - fitted my lenses and made the whole process easy and painless. They explained exactly how the lenses work illustrating the treatment with hi-tech images and information which I found fascinating. I can't recommend them highly enough.
Jo Fernandez - Evening Standard Travel Journalist
Back to Success Stories
Find out if you are suitable