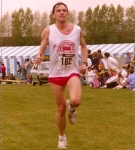 Malcolm Hughes - Chairman and Runner with Reading Problems
"I suffered from dry itchy eyes from staring at computer screens all day until I discovered night vision correction contact lenses. It had become such a problem that I even attended a consultation for eye laser surgery. But the risks worried me and so I was resigned to putting up with sore eyes. Then around five years ago presbyopia kicked in and I started to need glasses for reading whilst still wearing contact lenses for my short-sightedness (I am -4.00D). Obviously I found this immensely frustrating.
My motivation for wearing contact lenses has been my lifelong participation in sport - in my 20's and 30's it was running, soccer and squash whilst now I'm in my 50's it is running and golf.
I first found out about Orthokeratology overnight correction lenses through an American friend. The fact that they are worn at night and not in the day offered me many benefits - no more tired dry itchy eyes, no more problems with dust and pollen when playing golf or out running - although I still expected to continue using glasses to read.
On the morning after wearing i-GO overnight lenses for the first time I was absolutely amazed how well I could see once they were removed and although the correction lessened during the day my optician explained that within a week this daytime regression would largely be eliminated. Sure enough, one week later my prescription was holding right up until I put the lenses back in before going to bed. I couldn't understand why I had not heard of this fantastic treatment before - it is a great alternative to laser surgery.
I had been wearing i-GO OVC lenses for two years when my optician suggested I consider 'Monovision' as a way of addressing my presbyopia and getting rid of my glasses for reading. I have to admit I was a bit sceptical. However I now wear just one i-GO lens at night in my 'dominant' eye - in my case my right eye, to focus on distant objects. The left eye in which no lens is worn is used for reading and addressing my presbyopia.
Suddenly, I found myself able to do without daytime contact lenses AND glasses. And because I am so delighted by the benefits of Overnight Vision Correction treatment, I chose to invest in building a business to bring this fantastic treatment to the UK - i-GO OVC!
Back to Success Stories
Find out if you are suitable