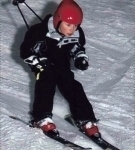 Michael Davis 13 - Downhill Ski Racing Enthusiast
"We used to worry about him remembering his glasses after PE and he lost them a couple of times. Now it is not an issue because his i-GO lenses are at home and we can be confident that he can see at all times."
"Michael first became interested in trying ortho k when our optician Shelly Bansal at First Contact in Pinner suggested he give them a try. Michael is a very keen sportsman - he is a second brown belt in karate and participates in snow skiing race training at Milton Keynes ski slope twice a week. Both these sports would be difficult if not impossible if he were wearing glasses. He handles the lenses really well, in fact he now finds them so comfortable he sometimes forgets to take them out and I have to remind him. When he went river rafting in California with my brother for a couple of nights he left his lenses at home and his natural vision was still really good even though he hadn't worn the lenses. He has just come back from a ski trip in Austria and we did not have to buy him prescription ski goggles." Ward Davis - Father
Michael says "I think my lenses are amazing because I don't have to wear glasses anymore and I can even last a couple of days without wearing them and still see. I can also play rugby much easier, as well as baseball and tennis"
Shelly Bansal, Michael's Optician suggested he try i-GO because his prescription was increasing at a rate of -0.75D per annum. "There is growing clinical evidence that if children are fitted with ortho k lenses at an early enough age they can help arrest the development of further increases in shortsightedness. The lens acts like a dental brace holding the eye in the correct place as it grows and is called myopia control *. In my view there are lots of benefits to children wearing contact lenses especially if they are sporty and the confidence of children can also improve from not wearing glasses. There is no downside and there could be a major upside in that we may be helping to offset increasing myopic development. "
*The i-GO lens (under the US brand name 'Emerald') is part of the SMART study - a large 5 year study in the US into Myopia Control.
Back to Success Stories
Find out if you are suitable