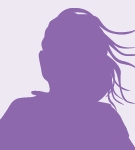 Romy Biscoe 12 - Enjoys Ballet and Body Boarding
"We go on lots of family holidays and needed to buy prescription glasses, swimming goggles, skiing goggles and prescription sunglasses. Everything is much more straightforward now".
" I read about it in the Daily Mail and it seemed so obvious but too good to be true. I thought overnight lenses would be great for me but Romy is even more short-sighted than I was at her age - I am now -5.00D and I hated wearing my glasses. Coming into puberty wearing glasses is a problem for children especially for girls - they start to wear make-up and with with daytime lenses it can get it in their eyes. Contact lenses for children are a good idea but I was most interested in the day-to-day convenience. I like being able to monitor her and because its all done at home I can. I also liked the idea that wearing the i-GO lenses not only gave her natural vision improvement during the day but could stop her eyesight getting worse. Shafquet (the Optometrist at Santro and Peche) has been absolutely brilliant looking after Romy and introducing us to i-GO lenses. I would recommend him to anyone. He was particularly sensitive to Romy being new to wearing lenses and very patient in the early days when teaching her how to put them in. We never felt rushed".
"The oak tree outside of her bedroom window has become the yardstick and how clear the leaves are on the tree. She said to me the other day "you know I think I can see even better still". She now finds the routine very easy and puts them in early evening to get it out of the way before bedtime. She does swimming and ballet and is a grade 5 now and ballerinas don't wear glasses! She is really looking forward to going body boarding this summer and trying it out for the first time without prescription goggles." Elaine Biscoe - Mum
Back to Success Stories
Find out if you are suitable