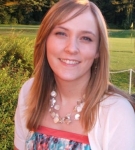 Felicity Edwards - Research Scientist, Pinner
"I currently wear i-GO overnight vision correction lenses- and I certainly would never go back to wearing everyday contact lenses!
I was diagnosed as being short sighted age 14 and prior to learning about the benefits of wearing overnight vision correction lenses from my optometrist, I tried a variety of visual aids, primarily daily disposable lenses and glasses.
My work as a Research Scientist, involves working in dry air environments; typically indoors with air-conditioning.

I became increasingly tired of wearing my daily lenses in these conditions, my eyes would dry up, placing progressive strain on my vision throughout the day, and by the evening I would generally have to switch back to wearing my glasses.
I also felt that relying on my contact lenses and glasses impacted on my life outside of work. For example wearing daily lenses made swimming in the pool really difficult, and I had also wanted to learn how to scuba dive, however I was quickly put off due to the concern of getting water in my mask and causing problems with my vision under water.
I have considered laser surgery, but was scared about the procedure and was further discouraged after hearing about the various side-effects that can occur later in life.
My optician Shelly Bansal had been wearing i-GO lenses himself and recommended that I try them out. Since wearing I-GO lenses I now have unaided 20/20 vision all day long, and many aspects of my life have improved - notably the i-GO lenses are more comfortable and easier to take in and out than my previous lenses. It's also such a relief, as now I don't worry anymore about swimming in the pool, and I don't have to think twice before going scuba diving on holidays.
Only people with visual impairments will fully understand what it is like to be able to see without glasses or contact lenses whether at work, on holidays or at home. Deciding to try i-GO lenses from my optometrist has got to be once of the best investments I've ever made."
Back to Success Stories
Find out if you are suitable