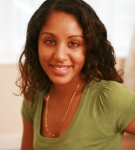 Carima Andrady - Research Assistant, Middlesex
"I've been wearing i-GO overnight vision correction lenses for the past six months. I have suffered from being short-sighted since I was 14 years of age, and prior to learning about the benefits i-GO lenses from a colleague at work, I primarily wore my prescription glasses and occasionally , daily disposable contact lenses.
Listen to an BBC RADIO interview with Carima's Optician Shelly Bansal
I work as a Research Assistant, involves working in air-conditioned office. I tried wearing my contact lenses at work but found my eyes would dry-up, making the contact lenses uncomfortable and causing my eyes to sting. I decided glasses would be more practical to work in, however after long periods of wearing them I eventually became annoyed with the fact that there was always something on my face in front of my eyes. But as a matter of practicality and expense, glasses seemed to be my only option.
I also felt that relying on my daily contact lenses and glasses impacted on my life outside of work. For example when socialising (in smoky or dry air environments), or, attending the gym and dance classes. Because I felt it wasn't practical to where glasses to exercise classes, I would often make sure I secured a front row position in order to see the gym instructor properly.

Whilst on a number summer holidays (prior to being fitted with i-GO lenses) I had considered learning how to scuba dive, however I was quickly put-off due to the possibility of not being able to see underwater without my glasses, or the fact that I'd be worried about wearing contact lenses underwater.

Since I have started to wear the i-GO lenses, I feel that many aspects of my life have improved - notably my confidence. I have perfect unaided vision all day at work, and I am really excited, as I know that I won't have to worry about glasses or contact lenses, or even having to take prescription sunglasses with me when I go on holiday in October. I sometimes even "forget" to wear them and I'll still have perfect vision the next day although i know I am supposed to wear them every night.
Discovering I-GO lenses just from a conversation at work has got to be one of the best affordable and trusting inventions I have tried."
Listen an interview with Carima's Optician Shelly Bansal on BBC radio
Back to Success Stories
Find out if you are suitable