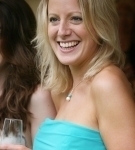 Hannah O'Neil - Account Executive, London
Hannah O'Neill, 28 years of age and lives in London with her husband
I've been wearing i-GO overnight vision correction lenses for the past three months - and they have without a doubt changed my life. Prior to learning about the benefits of overnight vision correction lenses, I used to regularly switch between wearing disposable contact lenses during the day and prescription glasses at night. My new lenses have helped to enhance many of aspects of my life - I now have perfect vision 24/7 and total freedom from my glasses and contact lenses during the day.
Since discovering i-GO lenses my day at work has dramatically improved. My role as an Account Director involves spending hours in front of a computer screen, in an air-conditioned office, and wearing daily contact lenses used to really irritate my eyes as the day progressed. After a day at work, I would generally remove my contact lenses and switch to wearing glasses, just to give my eyes a break and let them breath.
Since wearing i-GO lenses, my life outside of work has also vastly improved. I'm often heading out for either dinner or drinks straight after a day at the office, and with such a busy social life, I found that I was often wearing my contact lenses for longer than recommended, and by the end of the night my eyes were completely dried-out.
Prior to being fitted I was reluctant to take up scuba diving due to the fear of not being able to see underwater at such deep levels without my glasses or contact lenses. Now I have the freedom to participate in any water or outdoors activities without the worry of loosing a lens, getting my lenses dirty or sitting on my glasses.
The other benefit of wearing i-GO lenses was meeting my i-GO optometrist. He was more than happy to explain the technology in simple terms, and took me step by step through the process, making sure that I was completely comfortable at every stage of my assessment and fitting appointments. Along with some handy eye-health tips, making an appointment to see my i-GO optometrist provided a great opportunity to have my eyes re-examined by an expert using cutting edge technology.
Now I have perfect unaided vision all day long, and I am really excited, as I know that I won't have to worry about my contact lenses or glasses, or even having to take my prescription sunglasses with me when I go holidays to Australia later this year. Making the commitment to go and see an i-GO consultant has got to be one of the most life-changing and life-enhancing decisions I've ever made.


Download the Success Story as PDF >>
Back to Success Stories
Find out if you are suitable