Laser eye surgery makes comeback complicated for Henin | 15.02.2010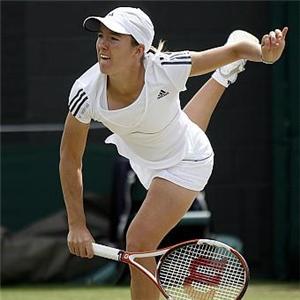 Tennis star Justine Henin made a successful comeback despite problems with the
laser eye surgery
she had after retiring from the sport in May 2008.
The seven-time grand slam winner had
laser eye surgery
on both eyes during her break from tennis. She then began to suffer from blurring and had to seek help.
Her physiotherapist Marc Grosjean recently revealed to the Herald Sun that a contact lens in her left eye proved to be the secret weapon that got her back into action.
The Belgian wears a new lens every time she plays or practises and first tried it out at the Brisbane International at the start of the year.
Her greatest success with the new lens came in last month's Australian Open which saw her progress to the final.
Although she was unable to beat Serena Williams, the tournament was very different from the previous year which saw her doing volunteer work for UNICEF in Congo.
Commenting on her comeback the 27-year-old said: "My mind was somewhere else. At that time I could never think that a year later I would be in this final. It seems a little bit unreal."
Impeccable natural vision is crucial for sports players of all abilities but contact lenses and glasses are often awkward and can fall off or break in the heat of competition.
Corrective laser surgery
can cause problems such as those encountered by Henin, but there is another option available.
Ortho K contact lenses restore the natural vision overnight. They are taken out during the day eliminating the need for any other form of
eye correction
.
Sports Vision: Will i-GO over night contact lenses improve your sports performance?
By Nick Howard
Related News
<< back to archive