Dry eye drops 'only offer temporary relief' | 22.06.2010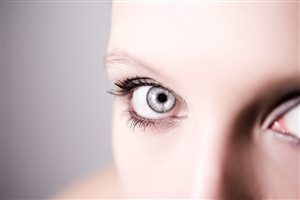 Almost every office worker in the UK now uses a computer during their working day. For some they spend every one of their eight working hours in front of one screen or another. And when it is time to go home and unwind, the TV is usually switched on or people check their Facebook pages and do a little online shopping.
The result is that people's eyes are under an increasing amount of pressure. Early symptoms of potentially damaging eye problems include soar, itchy and dry eyes. Mild irritation can turn into headaches if left untreated - or even vision loss.
As a result, dry eye drops have become increasingly popular - particularly among those who use a
vision correction
solution, such as glasses or daily contact lenses.
However, according to Jim Sheedy, director of optometry research at Pacific University in the US, while dry eye drops may offer temporary relief to office workers who spend the majority of their lives in front of an LCD panel, they are not a long-term solution.
Speaking to the Los Angeles Times, Sheedy said: "There's no real downside to trying [dry eye drops]. But I never recommend them as a first line of treatment."
He claimed that dry eyes is just one symptom of computer vision syndrome and suggested that anyone suffering from the condition should consult an optometrist or ophthalmologist about a possible
vision correction
solution.
One
alternative to dry eye drops
is the Ortho K overnight corrective lenses solution. This allows people to reduce the amount of time they wear contact lenses - taking away one of the main causal factors influencing a person's susceptibility to dry eyes.
Worn at night while a person sleeps, the lenses gently reshape a person's eyes, correcting vision and doing away with the need for
vision correction
solutions - such as daily contact lenses - during the day.
Written by Chris Alexander
Eye Health: Find out if i-GO over night contact lenses will suit you.
Related News
<< back to archive