Children's lengthening 'electronic life' highlights need for myopia control | 02.02.2010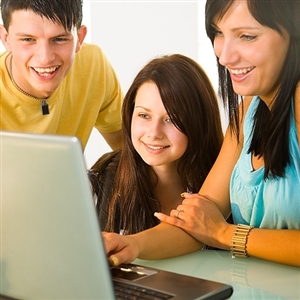 Children are spending an average of seven hours and 38 minutes a day consuming electronic media, according to a study, highlighting the need for myopia control at an early age.
The study, carried out by the Kaiser Family Foundation, was based on a sample of over 2,000 American eight to 18 year-olds, but the story is similar on this side of the Atlantic.
This amount has increased by an hour and 17 minutes a day over the past five years.
Including time spent 'media multitasking' children squeeze a total of ten hours and 45 minutes of media content into their daily lives.
Myopia is an increasing condition for children thought to be caused by the increasing amount of time spent viewing close-up screens at an early age.
The eye normally spends more time focussing on objects in the distance as children traditionally grow up playing outside, and experts advise a mixture of activities as the best way to prevent myopia.
However, only a third of young people say that their parents set rules on the amount of time they are allowed to spend on activities such as watching TV and playing video games.
Children are often prescribed glasses as a way to correct short-sightedness but can be bullied, find their performance in sport hampered, or break them.
Many parents do not realise that children can wear contact lenses at an early age and ortho K contact lenses have an added advantage.
Worn while asleep, the night time contact lenses act like a dental brace for the eye, gently slowing the elongation that causes myopia.
Children's vision: Is your child suitable for i-GO over night Contact Lenses?
By Nick Howard
Related News
<< back to archive