Bifocals may act as myopia control | 27.01.2010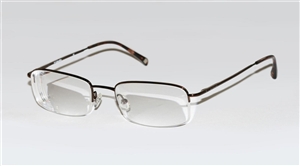 A study reported in the Archives of Ophthalmology has suggested that prescribing children bifocal lenses could act as a form of
myopia control
.
Such lenses are split into two sections, with the upper half being used for distance vision and the lower part being used for near vision.
Researchers conducting the study recruited 135 youngsters to take part, and prescribed half single-focus lenses and the remainder bifocal lenses.
Half of the second group were given prism bifocals which help eyes work together.
At the end of the two-year study, it was noted that children wearing both types of bifocal lenses showed a moderately slower rate of myopia progression.
However, overall, the benefits of bifocals as a form of
myopia control
was moderate, and researchers are still waiting to see if the effects wear off over time.
Speaking to Reuters Health, lead researcher Dr Desmond Cheng stated that the benefits of wearing bifocals would also need to be weighed up against the negative implications of the lenses, including their price and poor cosmetic appearance.
Another potential form of
myopia control
is
ortho k
over
night contact lenses
which are worn while people sleep, leaving them with improved
natural vision
the next day.
The
OrthoK
lenses can provide a great alternative to children's glasses as they can be worn at any age and as they are not worn during the day, they do not get in the way when kids are playing sports or in the playground.
The first year results of the five-year Smart study highlighted that wearing the lenses can reduce or even halt the progression of myopia in children.
They can also help overcome the issue of glasses affecting children's confidence.
In addition to the benefits for children,
orthok
contact lenses also give parents peace of mind as they know that their offspring are wearing them in bed, unlike their glasses which can be easily forgotten or simply left in their school bag.
Children's vision: Is your child suitable for i-GO over
night Contact Lenses
?
By Nick Howard
Related News
<< back to archive